News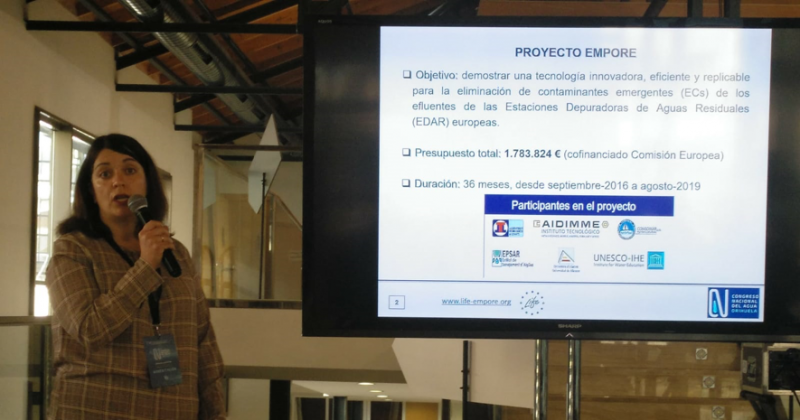 3th June 2019, en News
LIFE EMPORE at the National Water Congress of Orihuela
The LIFE EMPORE project participated in the National Water congress held on February in Orihuela, organized by the University of Alicante and the town hall of Orihuela
Last 20th and 21th of February took place the National Congress of the Water organized by the University of Alicante and the town hall of Orihuela. The meeting was held in Orihuela and included the participation of the LIFE EMPORE Project, which was presented by María de los Ángeles Bernal Romero del Hombre Bueno, member of the IUACA.
The presentation showed the objectives of LIFE EMPORE project, the technologies implemented in the pilot plant, the characterization of the EDAR Benidorm effluent and the main conclusions of the surveys on the social acceptance of treated wastewater for reuse, carried out by IUACA members during the XIV National Congress of Irrigation Communities and the ESAMUR Technical Conference.
Most survey participants mentioned the reuse of treated wastewater as advantages, since it has positive effects on the environment and is a resource currently available to companies and irrigation communities in Spain. As disadvantages, they listed the price of water, the difficulty to ensure food safety and traceability, and the infrastructure of use required, such as storage and pumping. In addition, it was also stated that the presence of emerging pollutants (ECs) represents a significant risk factor for the future of the reuse of treated wastewater.
After raising the problem of the impact of future regulations on specific regulation of ECs in wastewater and exposing it, the need was raised to combine current technologies to obtain a higher quality water, since for the moment the best technique to eliminate ECs in unknown.
Are you an Associated Beneficiary? Access private area to download documents Private zone