LIFE-EMPORE
Improving the quality of water.
The implementation of the Water Framework Directive (WFD) raises a number of shared technical challenges for the Member States. The aim to reach good ecological status in every water body in Europe is far to be reached.
Within this context, emerging pollutants is one of the key topics to be addressed in the following years. Although emerging pollutants are suspected of causing adverse effects in humans and wildlife, due to their ecotoxicological effect, only 45 of them are regulated by the Directive 2013/39/CE.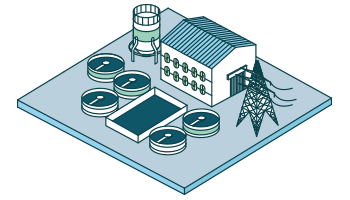 Life-Empore Project aims at designing a technical and cost-efficient solution for removing emerging pollutants.
The sources and pathways of these emerging pollutants can be increasingly associated with the waste water discharges from industrial, agricultural or municipal activities. At present, WWTPs are not designed for the treatment of this kind of substances. For this reason, they are not removed neither altered in the water line and finally reach the aquatic media affecting wildlife and consequently being introduced into the food chain with the associated health effects. Even worse is the case where these waters are reused. Emerging Pollutants are one of the most serious health and environmental risks for water reuse in municipal WWTP.
LIFE-EMPORE is a project co-financed by the LIFE Programme of the European Commission, which aims at developing an efficient and sustainable methodology for the removal of emerging pollutants from the effluents of WWTPs.
Water contains dozens of pollutants not regulated up to now.