News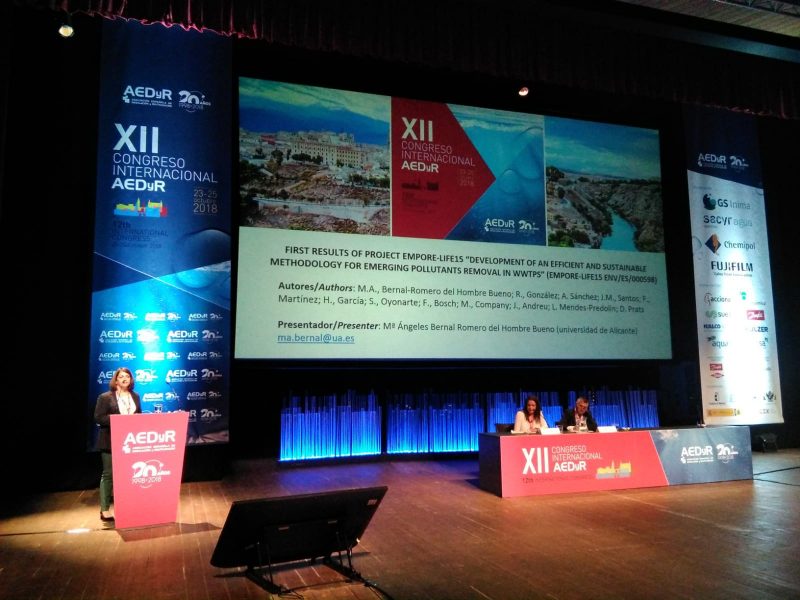 24th October 2018, en News
LIFE-EMPORE participation in the 12th International Congress of the Spanish Association of Desalination and Reuse (AEDyR)
The project LIFE-EMPORE had been presented by María María Ángeles Bernal, University of Alicante (UA), in the 12th International Congress of the Spanish Association of Desalination and Reuse (AEDyR) last 23th of October 2018 in Toledo.
The event will finish next 25th of October and experts in the water treatment of universities, research centres, public agencies and companies have met there, turn this congress to a global reference in desalination and reuse.
The speech includes the results of the LIFE-EMPORE project (EMPORE LIFE15 ENV/ES/000598) titled "DEVELOPMENT OF AN EFFICIENT AND SUSTAINABLE METHODOLOGY FOR EMERGING POLLUTANTS REMOVAL IN WWTPS". During the seminar, she explains the innovative technologies that the pilot plant contains with the aim of achieve a cost-effective and replicable method to remove Emergent Pollutants (PE) in waste-water treatment plants (WWTP).
M.Ángeles Bernal underlined the importance of PE analysis in waste water and their consequences for the environment, society and economy. First results aim to a better quality of water in Benidorm, we are closer to our objectives in LIFE-EMPORE.
EMPORE (ref. LIFE15 ENV/ES/000598) is co-financied by LIFE+2015 Call, The LIFE Programme is the EU's funding instrument for the environment and climate action. The project is due to last 36 months, with a total budget of 1.783.824€.
Are you an Associated Beneficiary? Access private area to download documents Private zone